Water Damage Mold Insurance Claims
Continued from Water Damage Mold Cleanup and Restoration Part 1 and Part 2
Water damage, Mold Damage and Flood Damage are some of the most common reasons people make claims on their home insurance. Frozen, broken or burst pipes, leaky appliances and flooded basements are just a few of the ways you could discover exactly what is and is not covered by your home insurance policy.
One of the worst effects of water damage comes in the form of mold. If your home has water damage, mold could develop in as short of a time as 24 – 48 hours of water exposure. Even worse, it may continue to grow until steps are taken to thoroughly dry out the premises and eliminate the source of moisture.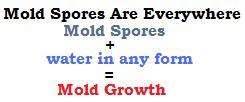 Mold is certainly not new—it's been around for hundreds of millions of years—but the sharp rise in mold claims is definitely a 21st -century phenomenon.  Multi-million dollar jury awards, sensationalized reporting in the media and profiteering by some individuals have led to an explosion in mold claims and costs.
In 2004 the Institute of Medicine (IOM) found there was sufficient evidence to link indoor exposure to mold with upper respiratory tract symptoms, cough, and wheeze in otherwise healthy people; with asthma symptoms in people with asthma; and with hypersensitivity pneumonitis in individuals susceptible to that immune-mediated condition. The IOM also found limited or suggestive evidence linking indoor mold exposure and respiratory illness in otherwise healthy children. In 2009, the World Health Organization issued additional guidance, the WHO Guidelines for Indoor Air Quality: Dampness and Mold [PDF, 2.52 MB].
Homeowners Insurance: Is Mold Covered?
Whether mold is covered by homeowners insurance often comes down to the source of moisture and the wording of a policy.
Mold needs 3 things to thrive. All three of the basic elements – moisture, food and oxygen — MUST be present to support mold growth. If that moisture remains for 24-48 hours you will likely begin to have a mold problem.
Problems can arise for homeowners when the presence of persistent moisture goes undetected or unresolved, leading to widespread mold growth. Moisture can result from high indoor humidity, flooding, or a leaky roof or dishwasher.
Mold, like rot and insect infestation, is generally not covered by a homeowners insurance policy. Standard homeowners policies provide coverage for disasters that are sudden and accidental. They are not designed to cover the cost of cleaning and maintaining a home. If, however, mold is the direct result of a covered peril such as a burst pipe, there could be coverage for the cost of eliminating the mold.
Clean Up Water Damage Now To Avoid Mold!
Regardless of how the water damage happened, it is important to take similar steps to remedy it. Never ignore indications of an obvious water problem in your home. You should immediately attempt to find and stop leaks at their source.
Properly dry or remove soaked carpets, padding and upholstery within 24-48 hours after a flood to prevent mold growth. Anything that can't be properly dried should be discarded. Just letting items dry out will not remove the mold, and mold will grow again anytime there is enough moisture in the air, such as on humid days.
Remove standing water as quickly as possible. Standing water is a breeding ground for microorganisms, which can become airborne and inhaled.
Wash and disinfect all areas that have been flooded. This includes walls, floors, closets, shelves, as well as heating and air-conditioning systems.
If you have any questions regarding mold and homeowners insurance, contact your agent or company representative. They can provide information on how to maintain your home and may also be able to provide the name of an Insurance Approved, Certified (IICRC) Water Damage Restoration Expert that does water damage repair and restoration.