Water Damage From Ice Dams
A winter storm that has wreaked havoc in the Twin Cities has many Minnesota homeowners still  dealing with water damage in their homes from ice dams.
Winter Storms
Winter storms are the third-largest cause of catastrophe losses, behind only hurricanes and tornadoes.  From 1990-2009, winter storms resulted in about $25 billion in insured losses, according to ISO. This melting snow can inflict significant damage to property.
Water Damage Cleanup
The amount of cleanup you can do by yourself will depend on the extent of the water damage caused by the ice dam.  The temperature and weather conditions may not be ideal for a cleanup, but it is imperative that you act quickly to avoid further damage.  The worst scenario you will have to deal with is replacing the damaged portion of the roof and ceiling.  If the water damage is minimal, you may be able to do the clean up yourself. Otherwise contact a water damage restoration company.
By the time you start cleaning up the water damage, you should have already dealt with the ice dam and stopped any leaking water.  If water is still leaking, try to collect the dripping water by placing a pail directly under it.  You should also wrap the surrounding furniture with plastic.  Also, remove any furniture that is situated directly under the leak.
The first step of the cleanup is to deal with the damaged portion of the roof.  Before you do anything, check the durability of the roof as it may collapse on you.  If you are well-equipped and experienced to replace the roof, replace both exterior and interior roofing.  Usually this will require you to replace a roof tile or shingle and the damaged portion of the attic ceiling. On the other hand, you could contact a roofing contractor if you think you are not capable of the task.
If damage is already present in your furniture, assess if you can successfully clean the upholstery to avoid any mold growth.  Porous materials which have been wet through should be thrown away as mold may grow inside the pores.  Carpet and rugs on the other hand, should be removed, washed and completely dried.
While doing the cleanup, also keep in mind a few safety tips.  Wear proper clothing: use a pair of gloves, goggles and respirator if needed.  Keep your gloved hands away from your face or any other part of your body.  Be careful in using disinfectants; wear a respirator and be careful not to mix bleach with other chemicals that contain ammonia.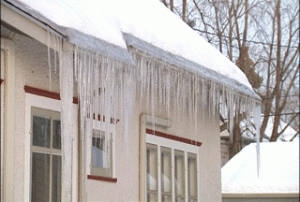 Minnesota homeowners, property managers, building owners, and churches suffering the effects of an ice dam, or those who fear a leak is imminent, cleaning water damage caused by ice dams should be done quickly and in a systematic order.  The above tips are designed to help you but if you think you are not up to the task, contact a professional contractor right away; one that can deal with the ice dam and then one that can take care of the water damage cleanup.
Insurance Approved Water Damage Restoration
But before you contact one, make sure that you check credentials and services offered.  Contact your insurance company for accreditation.