Buying or Selling A Home? Get An Inspection!
The purchase of a home is one of the largest single investments you will ever make. You should know exactly what to expect — both indoors and out — in terms of needed and future repairs and maintenance. A fresh coat of paint could be hiding serious structural problems. Stains on the ceiling may indicate a chronic roof leakage problem or may be simply the result of a single incident. It can also be an indication of water and mold damage from basement flooding.
Why Do I Need An Inspection?
The inspector interprets these and other clues, and then presents a professional opinion as to the condition of the property so you can avoid unpleasant surprises afterward. Of course, an inspection will also point out the positive aspects of a building, as well as the type of maintenance needed to keep it in good shape. After the inspection, you will have a much clearer understanding of the property you are about to purchase, and be able to make your decision confidently.
Truth-in-Housing Evaluations
Truth-in-Housing Evaluations, which are also known as Time-of-Sale Evaluations in some cities, are required by city ordinance in a number of communities. Minneapolis, St. Paul, Maplewood, Bloomington, South St Paul and Hopkins all require that an independent evaluator, licensed by the city, perform the evaluation. The report is required to be on display at the house when it is shown for sale. The evaluation of the home is based on each city's housing code. Most of the cities require that some repairs of hazardous items be made.
What Is a "Truth-in-Housing" Report?
Some Minnesota cities require a Truth-in-Housing Report that tells you the condition of the home based on the city's housing code standards. The report is completed by a licensed evaluator. Some cities have limited requirements to meet, so don't rely on this report alone.
Minneapolis Truth-in-Sale Inspection | Home Inspection and Water Damage
Most communities that have this ordinance do not require the seller to make repairs. The intent of the report is to provide prospective home buyers with thorough, accurate information to assist them in making a good decision about buying a home. When a Truth-in-Housing Report is required, the seller must provide the report to all prospective buyers at the time of the showing. If you have questions about a Truth-in-Housing Report for a particular home, contact the evaluator or the city in which the home is located.
Disclosure Requirements
Many states have laws about disclosing problems when selling your house. Usually these states have a standard disclosure form you can get from a real estate broker, your local library, or online. What a seller must disclose to potential buyers varies from state to state. The general rule, though, is you have to disclose any "material" or "serious" defects or problems you know about.
That doesn't mean you have to disclose every single minor problem, such as creaky floors, doors that stick, and minor cracks in the walls. Rather, if a particular problem would have a major impact on a buyer's decision to buy or not, then you need to disclose it.
Some examples of things you may see on a disclosure form include:
Leaks in the roof
Lead paint anywhere in the house. In fact, whether or not your state has a disclosure law, federal law requires you to follow the Lead Disclosure Rule if your home was built before 1978
Whether the home is located in a flood plane
As a seller, if you have owned your home or building for a period of time, an inspection can identify potential problems in the sale of your home or building and can recommend preventive measures which might avoid future expensive repairs.
Required Repairs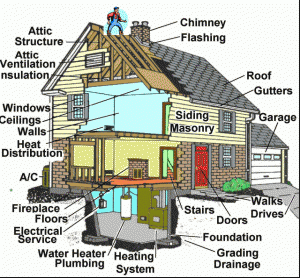 Repairs required at the time of sale of a dwelling, as listed in the notification letter. The complete list of required repairs can be found in the Minneapolis Truth-in-Sale of Housing ordinance, Title 12, Chapter 248.(Defined below)
(a) The truth-in-housing disclosure report, the code compliance orders or certificate of code compliance shall all contain a statement signed by the owner or representative of the owner:
(1) As to any damage to the dwelling or its contents by:
a. Flooding
b. Sewer backup due to flooding
(2) Any evidence of chronic water seepage of which the owner has experience or knowledge.
(3) Age and condition of roof:
a. Currently leaking.
b. Patched.
(4) That the professional opinion referenced in section 248.70 was obtained and will be provided to all prospective purchasers in first time condominium conversion.
(5) As to whether there has been environmental testing, removal or remediation as defined in 248.10
(b) Further, no owner or representative of the owner shall sell such dwelling without providing to the buyer a statement of the nature, extent and cause of any water seepage or flooding of any portion of the property within the knowledge of the owner.
(c) All such reports and certificates or orders are deemed not valid without the signed statement. (98-Or-057, § 1, 6-26-98; 2005-Or-143, § 3, 12-23-05; 2006-Or-113, § 2, 10-20-06)
In the unfortunate event that you are dealing with water damage, flood damage or wet basement problems, a Minnesota Water Damage Restoration Expert can be a life saver. Keeping your basement free of water will go a long way in making sure you are able to get top dollar from your home when it is time to sell!